Defensible space starts at your home's foundation. Maintaining a defensible space of 100 feet on all sides of the structure is critically important. California AB-1516 requires: 1) Fuel reduction between 5 and 30 feet around the structure, and 2) creating an ember-resistant zone within 0 to 5 feet of the structure. This zone helps prevent ignition of your house from ember cast, radiant heat, and direct flame contact. This can be accomplished with fire-resistant plants and non-combustible ground cover like bare soil, decorative rock, and by not using bark nuggets or mulch as ground cover. This zone helps prevent a wind driven fire's ember cast materials from igniting your house. Wooden decks and fences, or those made from other combustible materials, can act as a wick to ignite your home. Consider using ignition-resistant or non-combustible siding, roof cover, deck and fence material.
So, now that you have the 5-foot zone, let's look at other areas around your house.
Doors, windows and window coverings – Embers can enter gaps in doors, including garage doors. Plants or combustibles stored near windows can be ignited from embers and generate enough heat to break windows and/or melt combustible frames. Consider installing dual-pane windows.
Roof – Remove overhanging tree limbs 10' away from the edge of the roof, frequently inspect and remove needles, leaves and debris from roof. Have ignition resistant materials such as fire rated shingles, composition, metal or tile roof covering.
Chimney and stovepipe outlets – Install an approved spark arrestor non-combustible screen with openings no smaller than 3/8 inch and no larger than 1/2 inch to prevent embers from escaping and igniting a fire, remove limbs within 10'.
Gutters – Have gutter guards installed on gutter to reduce or eliminate flammable debris from accumulating in gutters.
Vents – Have ember resistant vents installed on foundation, eves, roofs and gables. Ember resistant vents are addressed in Chapter 7A of the California Building Code.
Balconies, decks and patios – Remove combustible materials from on and under these areas.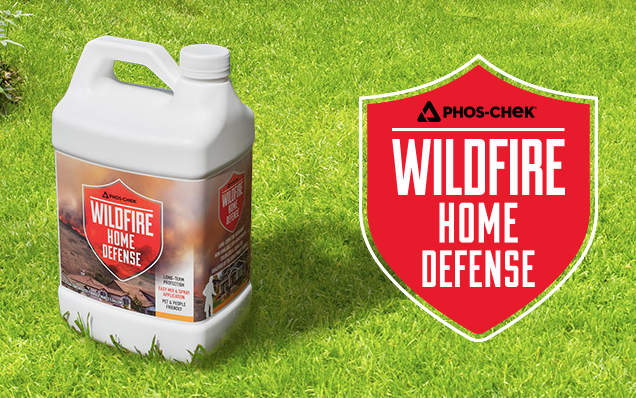 Now let's add PHOS-CHEK® WILDFIRE HOME DEFENSE this allows homeowners to enhance the defensible space around their homes and increase the likelihood of saving your home and personal belongings from a threatening wildfire. Spray PHOS-CHEK® WILDFIRE HOME DEFENSE on all vegetative fuel sources close to the home and around outbuildings to avoid ignition by wind-driven embers.
PHOS-CHEK® WILDFIRE HOME DEFENSE flame retardant should be used in conjunction with standard vegetation management practices and defensible space recommendations according to NFPA FIREWISE USA® Principles advocated by your local fire department.
Recent Posts
When you think about fire retardant, what do you imagine? You may think of an airplane dropping oran …

You need to protect yourself, your home, family, possessions, and pets from the possible danger of f …

When you need fire protection, you want to look into fire retardant products. A fire retardant, whet …