Large and destructive wildfires are increasing in frequency; loss of life and property are on the rise. If you have not done so already, the time is now to start taking the necessary steps in protecting your property against the growing wildfire threat.
Start by visiting the National Fire Protection Association website: https://nfpa.org/firewisefactsheets where you can learn everything you need to know from fire proofing your residence, to creating defensible space around your home, and how to prepare before evacuation orders are issued.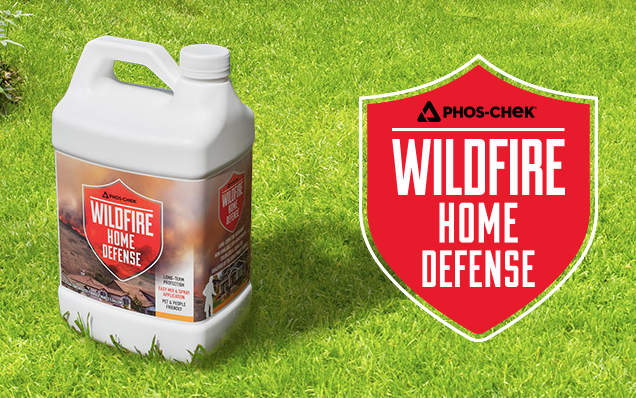 Following that, PHOS-CHEK® WILDFIRE HOME DEFENSE can provide your property an even better chance of surviving a fire event.
What is PHOS-CHEK WILDFIRE HOME DEFENSE?
PHOS-CHEK Wildfire Home Defense is their long-term fire retardant that helps slow the spread of wildfires. The PHOS-CHEK brand was established in 1962 to combat wildfires with aircraft; since then the PHOS-CHEK name has become synonymous with quality, innovation, and partnership. Now, homeowners can use PHOS-CHEK WILDFIRE HOME DEFENSE to protect their homes.
The goal of PHOS-CHEK WILDFIRE HOME DEFENSE is to provide homeowners with an innovative solution that can protect their homes, valuables, and memories from destruction by wildfire. Every homeowner at risk from wildfire should invest in PHOS-CHEK WILDFIRE HOME DEFENSE to give their property a much better chance at surviving a fire.
PHOS-CHEK WILDFIRE HOME DEFENSE makes cellulose fuels (grasses, shrubs, trees, bare wood) resistant to ignition. When a treated surface is exposed to heat from a fire, that surface forms a non-flammable carbon layer. The carbon does not burn, thus slowing the spread of the fire. PHOS-CHEK WILDFIRE HOME DEFENSE is safe for people, pets, and the environment.
PHOS-CHEK WILDFIRE HOME DEFENSE is easy to apply. Simply mix it by following the directions on the label and spray it on vegetation surrounding the home. A single application at the beginning of the hot & dry summer season can provide protection for months at a time.
Start your spray application within 10 feet of the foundation to all plants and shrubs that could ignite during a fire; and don't forget to spray areas with bark mulch! The product is also effective on unpainted wood surfaces such as fences, sheds, decks, and even wood shingle roofs.
PHOS-CHEK WILDFIRE HOME DEFENSE is effective immediately when applied.
Recent Posts
As you think of what materials would be likely to catch on fire, you probably imagine wood and fabri …

Whether you are building a new home, remodeling your existing house, or simply want to ensure your f …

According to FEMA, residential fires kill nearly 4,000 people per year in our country. That is a sta …